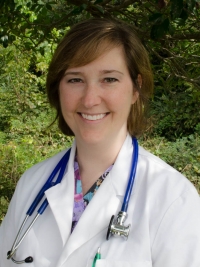 Dr. Krista Whitlock, DVM
In the second grade, young Dr. Whitlock announced to her family that she was going to be a veterinarian. Her father said she'd change her mind, but she didn't! Now she's an Associate Veterinarian at East Lake Animal Hospital.
Krista was born in Athens, Georgia, but grew up in Watkinsville. She always loved science, especially biology, and gets to combine that with her passion for animals. She took every science, chemistry, and anatomy class she could while in high school, then attended the University of Georgia for her undergrad degree in Animal Science. She graduated from UGA's veterinary school in 1997 and worked at another practice for three years before joining the team at East Lake.
Dr. Whitlock enjoys educating clients and simply talking with them-she likes to laugh with clients and let them know she's not just a boring doctor!
At home, Krista lives with her husband Tim and their son, who recently attended the Space Academy in Huntsville, Alabama. They also have a daughter with Shirley Temple curls. The family lives with Murray the dog, and cats Stevie G, Sprinkles and Pop-Tart.
Outside of work, Dr. Whitlock likes the Beatles and being a sci-fi geek. She enjoys attending Dragon Con in Atlanta every year to absorb all the Star Trek, Lord of the Rings, Doctor Who, Harry Potter, The Walking Dead, and Game of Thrones she can stand!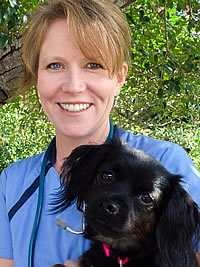 Dr. Maranda West
Throughout her life, Dr. West could usually be found spending her free time with an animal. It might be riding horses or hunting with her dad. Even now when she is stressed, animals are what she turns too.
Originally from Dublin, Georgia, Maranda attended the University of Georgia for both her undergraduate degree in Animal Science and her D.V.M. She practiced both large and small animal medicine in South Georgia before coming to Henry County Veterinary Hospital in 2003.
Dr. West enjoys getting to know her clients and their pets. She particularly enjoys surgery. She also loves getting to meet a new puppy or kitten for the first time.
At home, Maranda lives with her husband, Russ. She has an Irish Setter named "Ellie", who does almost everything with her. In her free time she can be found riding horses, camping with friends, kayaking, or just spending time with her family. Her family currently consists of three horses, three dogs, and a cat named Daisy.
Dr. Jaimi Goodman, DVM
Biography and photo coming soon.